| | |
| --- | --- |
| Monthly Update for January 2018 | |
Keeping up the fight to stop coal pollution in the Bay
Baykeeper is back in court to defend the city of Oakland's precedent-setting coal ban.
The developer Phil Tagami is suing to revive his plan to export millions of tons of coal each year from a planned shipping terminal on the Oakland shoreline.
Because of the significant environmental and public health risks posed by such a massive influx of dirty coal, Oakland passed a citywide coal ban in 2016. Tagami—whose legal costs are being paid for by a coal mining company—has challenged the ban, and yesterday the case went to trial.
Baykeeper is standing with Oakland, the Sierra Club, and our other community partners to defend the ban. As Baykeeper Managing Attorney Erica Maharg put it, "The city of Oakland absolutely has the right to protect its communities and environment from coal pollution. We're here to make sure that right is upheld."
Read more about Baykeeper's work on Oakland's coal ban.
Photo by Peter Thoeny, Flickr/CC
Baykeeper conducts flyover survey of King Tides
Baykeeper took to the air with our partners at LightHawk Conservation Flying to survey the impact of King Tides on Bay Area shorelines for the third year in a row.
Documenting the impact of the King Tides—very high tides that occur naturally—can help predict the effect of sea level rise in coming decades.
In the North Bay, several roadways and bike paths were flooded by high water levels. The eastern Bay Bridge approach is also susceptible to flooding, although it was mostly above water at the time of this year's flight.
Along some parts of the Pacific Coast, Baykeeper observed high waves visibly eroding shoreline cliffs. These erosion hotspots will continue to lose sediment as sea levels rise.
Monitoring King Tides is part of a broader effort by Baykeeper to advocate for more comprehensive planning and preparedness for sea level rise along the Bay's shore.
Click here to see more photos of the 2018 King Tides.
Photos from LightHawk flight by Robb Most for Baykeeper
Sturgeon: threatened giants of the Bay
Sturgeon have swum in the waters of San Francisco Bay for more than 2 million years and can grow larger than sea lions. But because sturgeon stay deep underwater—and because of their dwindling numbers—few people ever see one.
Two sturgeon species live in the northern reaches of the Bay, the green and white sturgeon. Green sturgeon can grow up to 7 feet long and weigh 350 pounds. White sturgeon can grow up to 20 feet long and weigh 1,500 pounds.
After surviving here for millions of years, sturgeon have been hit hard in recent decades. Dams have blocked access to spawning rivers, and Bay fill and development have displaced sturgeon habitat.
Overfishing has also been a historic problem. Commercial fishing of white sturgeon is now banned, and it's illegal to catch the endangered green sturgeon.
Pollution also impacts sturgeon. The parts of the Bay where sturgeon live are hotspots for selenium, which in excess can cause deformities, interfere with reproduction, and kill fish.
A significant amount of the Bay's selenium pollution comes from the Bay Area's five oil refineries. Baykeeper is advocating for stronger limits on selenium pollution, to make the water healthier for the elusive sturgeon, and all the Bay's wildlife.
Read more about San Francisco Bay sturgeon.
Photo by Geoff Parsons, Flickr/CC
Thank you, Baykeeper supporters!
We would like to extend a special thank you to the many generous supporters who gave to Baykeeper during the holiday season. Your gifts make our critical work protecting the Bay possible!
We'll use your support in 2018 to stop industrial pollution, prevent oil spills, prepare Bay shorelines for sea level rise, and do everything we can to defend beautiful San Francisco Bay.
Your past support enabled major progress for the Bay in 2017. Check out Baykeeper's new 2017 Annual Report, to see how you are helping create a healthier Bay for everyone.
One highlight is a feature interview with champion Bay swimmer Kim Chambers, who notes, "Baykeeper is responsible for helping to keep the Bay as clean as possible. And the Bay is cleaner than it's ever been before."
If you haven't yet made your gift to protect San Francisco Bay in 2018, please contribute today. Your support keeps us on the water and in the courtroom, protecting San Francisco Bay. Click here make a gift to Baykeeper.
Pelican photo by Robb Most for Baykeeper
Save the date: the Baykeeper Dinner is March 4
Baykeeper's annual dinner will take place at the Dolphin Swimming & Boating Club in San Francisco on Sunday, March 4. Mark your calendars!
Join us for fresh seafood, local wine and beer, an exciting silent auction, and breathtaking Bay views. We'll also present the 2018 Blue Rivet Awards to local Bay champions, and Baykeeper staff will give an update on new wins and plans for the year ahead.
Please note that space is limited and demand is high! Tickets will sell out quickly. Look for an email announcing registration opening in early February.
Photo by Drew Bird Photo
Swim, boat, paddle & party in the 2018 Bay Parade on July 15
Mark your calendars for Baykeeper's annual on-the-water extravaganza, the Bay Parade, on Sunday, July 15!
Swimmers, kayakers, SUPers, and boaters will come together for a fun and active day celebrating a healthy San Francisco Bay.
The Bay Parade's grand finale will be broadcast live from McCovey Cove on the San Francisco Giants Jumbotron. Festivities will continue on-shore at the Bay Parade after party.
Stay tuned for more details at baykeeper.org/bayparade
Looking for a unique sponsorship or employee engagement opportunity for your company? Contact eliet@baykeeper.org for more information.
Photo by Robert McKinney for Baykeeper
Baykeeper is seeking a part-time Event Assistant
Baykeeper is looking for a part-time temporary Event Assistant to support our two big annual events: the Baykeeper Dinner on March 4 and the Bay Parade on July 15. The position runs from February to July with a flexible weekly schedule available.
This position is a great opportunity to develop core skills in event production, fundraising, communications, database management, and nonprofit operations.
Click here to view the full position description and see how to apply.
Are you digital-media savvy? Become a Baykeeper technology advisor
Baykeeper is convening a one-year Technology Advisory Committee to help upgrade our online communication strategies.
We are accepting applications from volunteers with experience in digital communications, social media, marketing, and brand strategy.
The committee will meet in-person once per quarter. Committee members will be asked to advise on ways to strengthen Baykeeper's website, social media channels, and broader online presence.
Your participation will be a great boost to our work to protect San Francisco Bay. To request an application, please email info@baykeeper.org. The submission deadline is February 15, 2018.
Baykeeper on patrol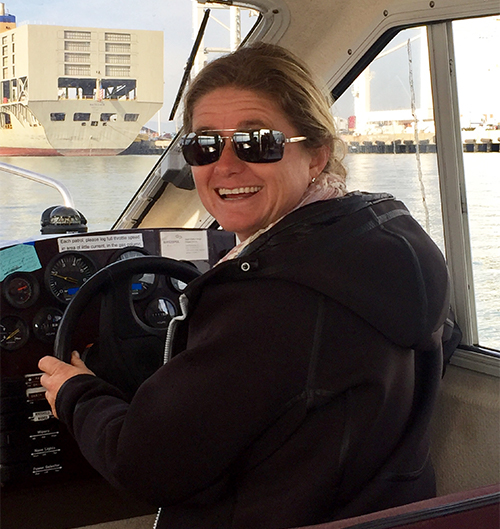 Baykeeper welcomes a new skipper: Heather Richard, our newest volunteer skipper, recently joined the Baykeeper team. Captain Heather is pictured, right, at the helm of the Baykeeper patrol boat on her first official pollution patrol. She's a seasoned seafarer who lives on the Bay with her family and has been sailing since she was 4 years old—she will be a great asset navigating the Bay to help Baykeeper find and fight pollution. Welcome, Heather!
You can read more about Heather on her Captain's Blog and website A Fine Day for Sailing.
Christmas Bird Count: In late December, Baykeeper volunteer skipper Jeff Wasserman and his son participated in Audubon's 118th Christmas Bird Count from the Baykeeper boat. Along with volunteers from Audubon, they counted hundreds of ducks around the central San Francisco Bay and buffleheads in the North Bay. Thousands of people across the country participate in this bird census every year to collect data for science and conservation.
New Year's Day Swim: On the first day of 2018, swimmers braved the cold waters of the Bay for the South End Rowing Club's annual New Year's Day Alcatraz Swim. The Baykeeper boat, piloted by volunteer skipper Robert Fairbank, accompanied the swimmers to provide safety support. Due to unusually foggy conditions (yes, foggier than usual, even for San Francisco!), our safety boat was on high alert to help protect swimmers. The route was moved to conclude at Pier 39 instead of Alcatraz, but it was still a successful swim. Congrats, New Year's swimmers!
Photo of New Year's Day swim, above, by Tony Gilbert
Photo at top by Roberto Soncin Gerometta
Keeping up the fight to stop coal pollution in the Bay